So I've been playing around with the many ways one can wear a cape and let me tell you, there are many. The weather turned cool today so I got to wear it out, still deciding whether I want to keep it ladylike with a dress or more casual with jeans. What do you think?
Either way I absolutely love it and am thrilled that I have one in my wardrobe now.
Tights are from Target, Shoes are Zola and YSL, jeans are Valley Girl.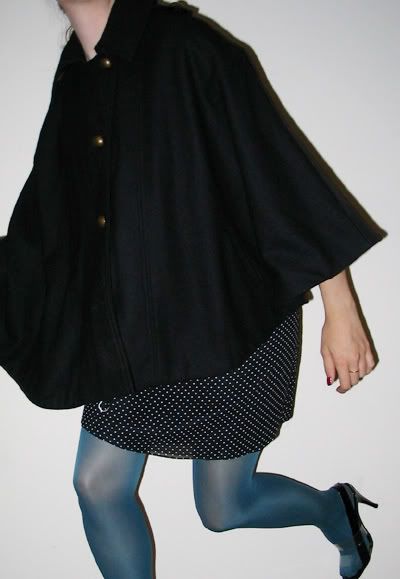 I have also had a few questions on where I find all these great little bargains. I call it 'digging for gold,' or basically looking in every shop you pass by and going through every rack in the hope or event that you may find such things as, well, a cape.
This divine little number was found in a shop called 'Shivers Boutique' in a little German settled town called Harndorf in Adelaide. I was walking into the shop as my friend was walking out and I asked her if there was anything worthwhile inside. She quipped- 'The whole thing gives me shivers, give it a miss!'
In must be in my nature you see but I couldn't.
Walking past the vinyl shoes, badly made shell jewellery and Nanna style shirts I went to the back of the shop, where, in the very corner on the bottom rack under a whole lot of aqua blue crocheted sequin numbers, was my cape.
The shop was closing down(which means you always have to enter, it just screams bargains) and after trying it on and deciding I wasn't leaving without it, I asked the shop assistant the price. 50% of the sale price which totalled $25.
So in a nutshell, even if the shop looks tragic don't be put off, digging for gold can often times produce a nugget.