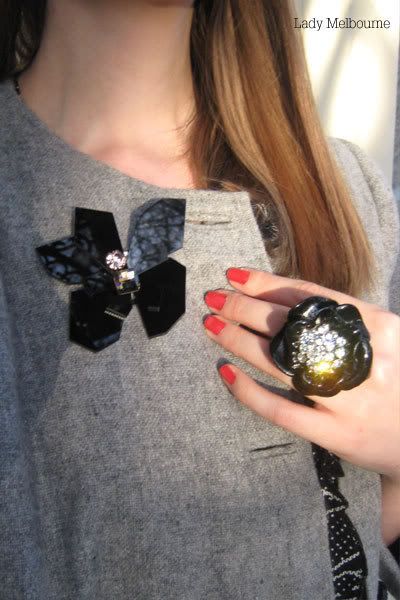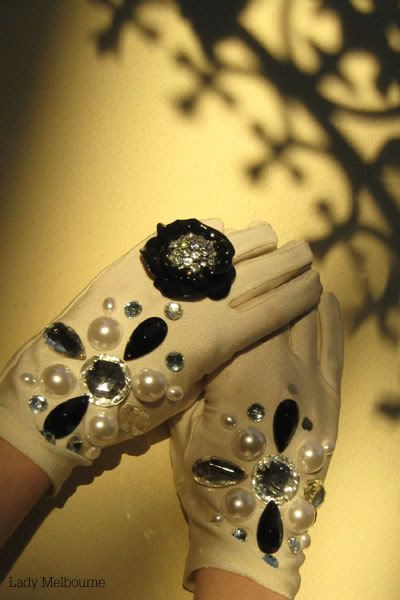 What a lovely refreshing weekend I've had, as you can see, I've been accessorising most of the time....joking of course, not all the time, just
most
of it.
And I'm back to black, white and grey finally!
Again, as in a previous post with a red pair, I made my gloves. Due to the response I had on that post I suppose I owe an explanation to you all so your not left wondering how it is I D.I.Y all the time.
Step one: Buy any pair of soft fabric gloves.
Step two: Buy the best quality rhinestones you can find. These are Swarovski crystal.
Step three: Design layout, glue on.
I may have a background in accessory design but you know, I don't want you all to think that Lady Melbourne might actually have to work for a living!
If you would like to know any more or would like a pair for yourself, please email me. They get borrowed for fashion shoots all the time, stylists seem to like them. Funny though, I don't sell very many. I suppose rhinestones before lunch isn't every ones cup of tea.
I also must tell you that I found this divine creature of a coat waiting for me at my local Vinnie's store. For all of $5.50 considering it is tailored, fully lined with bound button holes I thought the universe had delivered me quite a lovely little Saturday afternoon gift.
I'm going to make a nice big sash to go with it.
Looking forward now to reading about what the rest of you have been up to while I've been away!
LM
Dress: Target (I know!)
Coat: Vinnie's
Gloves: I made them
Ring: Mouche
Brooch: Mouche
Shoes: eBay