I first came across Bell & Boo in Frankie magazine earlier this year when they did a feature on them and I ripped out the free poster and put it on my wall.
A few months later on here, I found another profile with a link to their etsy shop. I hopped on immediately and purchased a couple of prints but I didn't feel it was quite enough to have them just on my walls.
I emailed the girls to ask if they would mind a short interview and profile on my blog, and they kindly obliged.
I'm thrilled to present to you an interview with Mandy Sutcliffe and Kate Caines of Bell & Boo.
LM: I feel a connection between what you are creating and fashion- do you think that is intentional, or incidental?
B&B: Definitely intentional, I was first inspired to draw children when I was studying in Paris, the children's fashions are so chic, almost old fashioned, double breasted coats, big floppy bows in hair and lace up boots. Now I look a lot to vintage clothing for inspiration. You might spot one of our little girls in jeans, but definitely NO Nike trainers, she is much happier in a pair of wellies!
LM: What would be Bell & Boo's biggest achievement to date?
B&B: I think our biggest achievement to date is running a company that people seem to like enough to enable us to continue and grow. We have also just launched our own website and are in the throws of trying to move Belle & Boo towards a stand alone brand that is recognized apart
from etsy.
LM: What's the demographic of your clientele and do you think that affects the work that you produce?
We have got such a wide customer base which is great, yet I guess our target market presently is the gifting market for babies and toddlers.
The majority of our clients buy Belle & Boo prints for christening presents and new born gifts. They look wonderful on a nursery or playroom wall, creating a childhood wonderland.
Some expecting mums also buy for their own little arrivals too. We do also have an older young teenage market that really like prints and accessories for images such as Patience Brown and Tokyo Bunny. The badges look really cool on a school bag!
LM: Do you have any fashion collaborations to speak of, and would you be interested in illustrating for a fashion house?
Belle & Boo images are just crying out to be seen on little girls dresses and knitwear, we have so many ideas. We are really excited about working with the amazing Australia designer Esa of Tea Pony who is creating a dress that ca using the Lost illustration. It looks great. It will be available on our website from September.There will be 5 sizes: 3-6m, 6-12m, 1-2yrs, 2-3yrs, 3-4yrs. We hope to do many more collaborations in the future and ideally produce an entire season of Belle & Boo fashion.
http://www.teapony.com/

LM: What is your favorite Bell & Boo image?
Mandy : My favourite image is a custom illustration I did for the Melbourne shop Meet me at Mikes, I had fabulous art direction from the wonderful Pip and was really pleased with the final art work.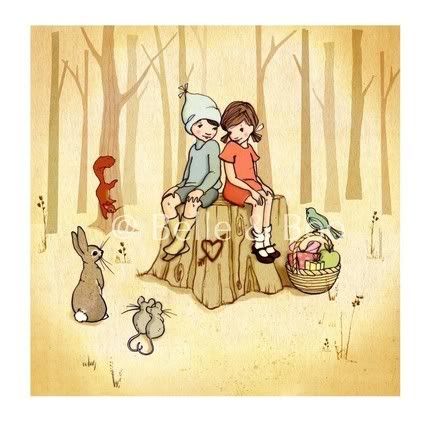 LM: What advice would you give to young illustrators out there trying to start up their own business?
I would definitely encourage them to start up their own business. It's really important to start up their own business and understand the commercial aspects of illustration.
Try to be true to their own ideas & style, I spent many years trying to be something that I wasn't & once I started drawing children, it just flowed & felt right.
Then think invest in a good printer & open an Etsy shop, it really opened up a lot of doors for Belle & Boo.

http://www.belleandboo.blogspot.com/