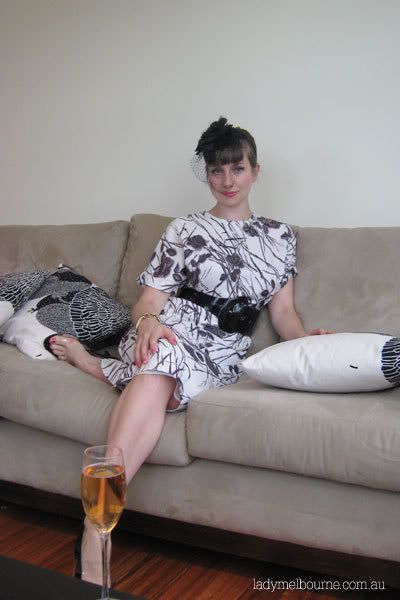 Happy Friday boys and girls!
That is meant to be pink champagne I'm sipping, not urine I can assure you. Although I've heard it's meant to be good for you....can anyone confirm? Seems ghastly to me.

Anyhow, it's lovely here at the moment, perfect weather for some champagne and to get me in the mood I thought this little fascinator might help.
I was inspired by a fellow blogger Porcelaine Blonde who asked me to make her one to wear at cocktail hour. What a gal, nice to know there are people out there to take tea and cocktails as they should be.
Anyhow, hers is going to be a lot less fussy, more Sicilian mobster wife in mourning (what a perfect description!).
I suppose it's time I came clean and let you in on a little something:
I have my own accessories label, in particular millinery and fascinators. Yep, Lady M works for her jewels by creating them for others!
I have never talked about the label which is under a different name because I wanted to keep the blog separate to my job. I've been asked quite a few times lately what I actually do all day apart from shop and lounge on the couch so there you have it.
Those with an eagle eye might have worked it out by now, most of the jewellery, gloves etc I wear I've made and I say so in the outfit notes.

Now I've got that off my chest there is champagne to drink!
LM
Dress: Retro Star
Belt: Camden Market
Heels: ZolaFascinator: Made by my me!