Truly, it doesn't take much to set me off on a black and white escapade. I started the week with good intentions I swear it, but you know me, one black dress and it's all I need (see yesterdays post)
Still completely and utterly addicted to this gorgeous ring, at least I've changed my earrings.
You know whats so neat about trying this new hair style( you can't see it but today's is swept to the side in a chignon just under my ear), is that I've discovered how pretty bows, ribbons and scarves are as an addition.
And yes, that's a martini and for those of you who have an eye for detail you can read the clock....whats that look for?!

I made my dress, I fancied making my own dresses for a while and perhaps launching my own line, but I can't stop shopping. Perhaps one day, wouldn't it be wonderful to have your own shop full of wonderful things that you like. 'Lady Melbourne's Vintage Emporium' has a nice ring to it I think. Sigh......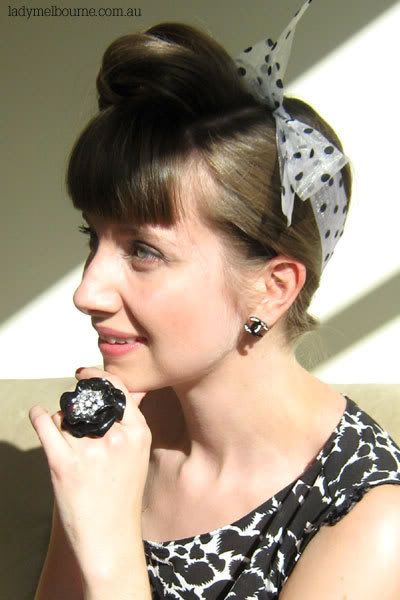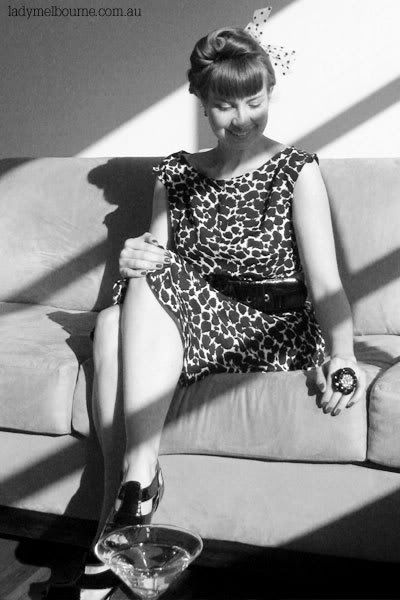 Dress: Made by moi!
Shoes: eBay
Ring: Mouche
Earrings: Chanel
Ribbon: It was on a gift and I couldn't bear to part with it!